Delaware County Against Human Trafficking Coalition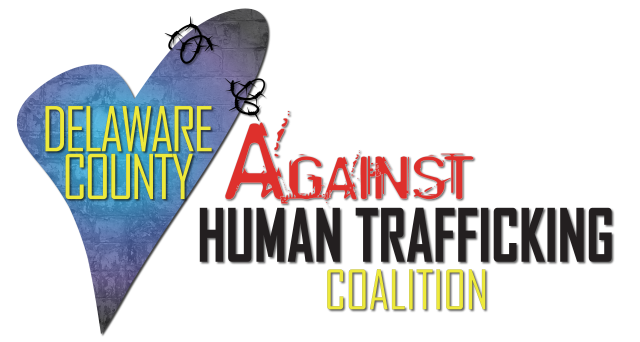 We are a coordinated Delaware County community response to end human trafficking through ADVOCACY, EDUCATION, PREVENTION and ON-GOING COMPREHENSIVE SERVICES.
JANUARY is HUMAN TRAFFICKING AWARENESS MONTH
Coalition members speak to IHeartRadio for Human Trafficking Awareness Month
Join us in spreading awareness on what human trafficking is, the national hotline number and ways to get involved by SHARING - our coalition's #WhatsYourBlue Campaign.
Delaware County Against Human Trafficking (DCAHT) Coalition has created an awareness campaign for National Slavery and Human Trafficking Prevention Month (January). And we would love for you to be a part of it!
The campaign incorporates Delaware County community faces, as well as state and national anti-human trafficking leaders, advocating for our county to get informed and become involved in anti-human trafficking efforts.
Download a blue stop sign designed by our coalition, with an open ended statement "I will help STOP human trafficking by____________."

DOWNLOAD THE STOP SIGN BY CLICKING HERE!

Print out the stop sign.

Fill in the "call to action" line. The call to action can be any idea you select but we suggest filling in an idea which you have followed through on or believe in. We selected blue as several trusted organizations i.e. United Nations, Department of Homeland Security, and US Customs and Border Protection, have used the color blue for their human trafficking awareness campaigns.

Take a picture holding the sign with your call to action.

Post your photo including one or all of the hashtags

(

#WhatsYourBlue #StopHumanTrafficking #DCAHT)

to connect the social media community.
National Human Trafficking Resource Center Info
---
* 24-hour human trafficking hotline to report a tip or get help
Call: 1-888-373-7888 | Text: HELP to BeFree (233733)
National Human Trafficking Resource Center
1-888-373-7888 | nhtrc@polarisproject.org | www.traffickingresourcecenter.org
The National Human Trafficking Resource Center (NHTRC) is a national, toll-free hotline, available to answer calls from anywhere in the country, 24 hours a day, 7 days a week, every day of the year in more than 200 languages. The NHTRC is operated by Polaris, a non-profit, non-governmental organization working exclusively on the issue of human trafficking. They are not a government entity, law enforcement or an immigration authority.
The National and Ohio numbers can put you in touch to:
Report a tip;
Connect with anti-trafficking services in your area
Request general information or specific anti-trafficking resources.
Local trainings.
Llama la línea gratuita y confidencial 1-888-373-7888:
Denunciar casos de trata;
Conectarse con servicios en su localidad;
Pedir información o recursos en español sobre la trata de personas y la esclavitud moderna.
Text BeFree
Text HELP or INFO to BeFree (233733)
In March 2013, Polaris launched a texting shortcode to help victims of human trafficking find safety. When victims text to BeFree (233733) they reach one of our call specialists, who assist them in planning their escape and/or connecting them to services in the area.